DAIKIN AIR-COOLED CHILLERS
Daikin products and services continue to evolve in pursuit of optimum energy savings and comfort.
VRV System Solution
For Large-Sized Buildings, Energy Saving
Outdoor units can operate up to 4.41 COP to reduce energy consumption.
Large Capacity and Space Saving
Outdoor units with capacities up to 56kW for a single outdoor unit and 168kW for a 3-unit combination are available. Featuring compact size and small footprint, VRV outdoor units enable space-saving and easy installation.
Flexibility
Increasing high static pressure for the outdoor unit fan gives greater installation flexibility.
High Reliability
The addition of various advanced features ensures reliable and stable system operation.

PRODUCT LINE-UP
Heat Pump / Cooling Only
This is the standard model for heating and cooling/cooling only.
Daikin responds to various needs including combinations featuring a small installation footprint and a high COP.
Heat Recovery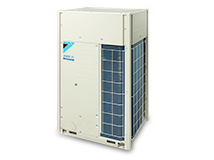 Because simultaneous operation of heating and cooling is possible, just one heat recovery unit can provide both heating and cooling for each room.
For High Outdoor Temperature Use
This outdoor unit is especially designed for the Middle East and other regions with high ambient temperatures. Daikin advanced technologies, including long piping and high external static pressure, meet the diverse needs of customers.
For Low Outdoor Temperature Use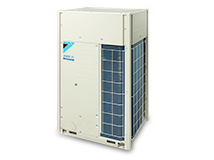 High efficiency heating is provided for ambient temperatures as low as -25℃. The addition of 2-stage compression technology has significantly improved heating performance.
For Replacement Use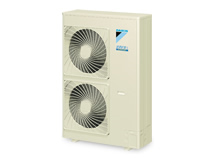 Replacement of outdoor units is possible using existing refrigerant piping to make renovation of air conditioning systems quick and trouble-free. Conversion from a R22 refrigerant system to a R410A system is possible.
For residential and commercial use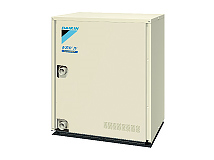 This slim and compact outdoor units efficiently utilize space and meet the needs of homes, small offices and shops with air conditioning capacities up to 24kW.
Water Cooled Unit
This outside unit utilizes water as a heat source. Temperatures of the heat source water can range from 10℃ to 45℃, and heating performance is not affected by ambient temperature.
The compact size saves space in mechanical rooms.
INDOOR UNITS
Daikin offers a wide selection of 16 indoor unit types for customized air conditioning solutions that uniquely meet the diverse needs of Daikin customers.
Ceiling Mounted Cassette (Round Flow with Sensing) Type
The presence of people and floor temperature can be detected for added comfort and energy savings.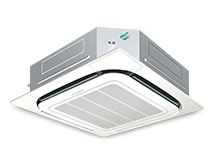 Ceiling Mounted Cassette (Round Flow) Type
360° airflow improves temperature distribution and offers a comfortable interior environment
Ceiling Mounted Cassette (Compact Multi Flow) Type
The compact design provides quiet operation and comfort.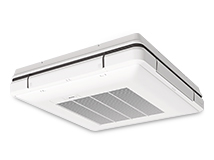 4-Way Flow Ceiling Suspended Type
This slim, stylish design achieves optimum air distribution and installs without need of a ceiling cavity.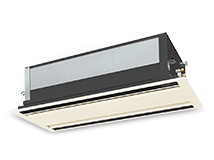 Ceiling Mounted Cassette (Double Flow) Type
The thin, lightweight design easily installs to narrow ceiling spaces.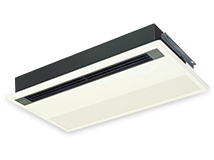 Ceiling Mounted Cassette (Single Flow) Type
The slim design enables flexible installation.
Slim Ceiling Mounted Duct Type (Standard Series)
This model features quiet operation, static pressure switching and slim design with a height of 200mm.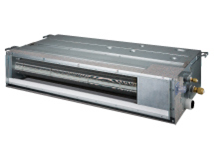 Slim Ceiling Mounted Duct Type (Compact Series)
The slim and compact design with a height of 200mm and a depth of only 450mm enables easy and flexible installation.
Middle Static Pressure Ceiling Mounted Duct Type
Middle external static pressure and slim design allow flexible installations.
Ceiling Mounted Duct Type
Middle and high external static pressure allows flexible installation.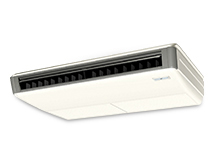 Ceiling Suspended Type
The slim design features quiet operation and wide airflow.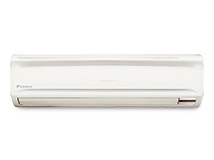 Wall Mounted Type
The stylish flat panel design harmonizes with any interior decor.
Floor Standing Type
This model is particularly suitable for perimeter zone air conditioning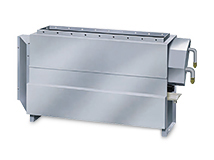 Concealed Floor Standing Type
This model is designed to be enclosed and concealed in perimeter skirting-wall.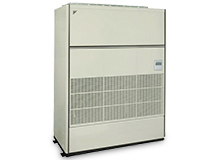 Floor Standing Duct Type
Large air volume type for large spaces. Flexible interior design for each tenant.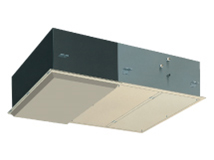 Clean Room Air Conditioner
This model is suitable for hospitals and other clean spaces.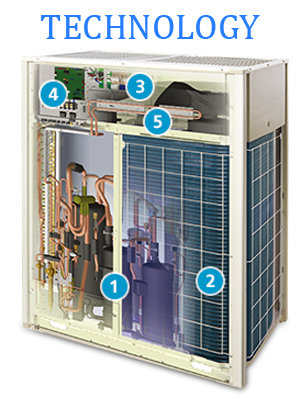 DAIKIN AIR COOLED CHILLER
Forged under harsh conditions around the world, Daikin air cooled chillers provide high quality, operation efficiency, and energy savings. Various applications are possible including air conditioning applications, industry-type process cooling, and large-scale district heat source systems.

Tecnicool Nigeria Limited is the authentic distributor of these range of DAIKIN products